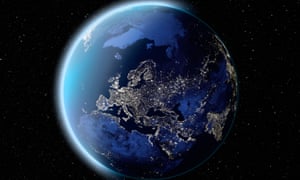 For most of us, the internet of things (IoT) might call to mind specific gadgets – slick innovations like Nest thermostats or the Apple Watch – that seem to owe their provenance to science fiction and promise a more wired world, as well as the inevitable automation of everyday life.
Then there are people like serial entrepreneur Nova Spivack, someone who's far less enamoured of the next IoT device than he is with something infinitely geekier: the data that can be captured. To Spivack, the chief executive of big-data mining company Bottlenose, the opportunities and promise of the IoT market also go much deeper than dollar signs. To him, the market's potential has less to do with gadgets – the "things" themselves – than with the secrets and insights they unlock about the world.
"The internet of things represents a major data opportunity", says Spivack, who also co-founded the startup incubator that gave birth to Apple's digital assistant Siri. "There's just no other data opportunity that comes close." Spivack's point is that when everything comprises sensors and has an IP address of its own, the world will see a huge increase in the amount of data being generated – vast streams of data that expand at such a fast clip it takes new kinds of machines and processes to peer into the streams and find some actionable insight.
In other words, he thinks it is the data and the requisite machine learning needed to make sense of it that will comprise the IoT market's killer app. "It's going to be the challenge of the next decade," says Spivack. "As everything gets an IP address and starts reporting, the question will be – where is this device? What's its status? What's going on around it? The amount of data that every device can stream out is going to be huge."
McKinsey's research helps prove his point. In a study of more than 150 IoT use cases, McKinsey found we may be using as little as 1% of data being generated – an indictment of how much potential is being left on the table. A typical oil rig, for example, is festooned with as many as 30,000 sensors, McKinsey notes – yet most oil companies are only using those to detect and control anomalies, not to do things like prediction and related analysis.
Will the generation of IoT­-related data be enough of a benefit for users that they're comfortable giving up more of their privacy? Do they trust the makers of connected cars, smart homes, activity trackers and the like to keep their data secure and to be transparent in their usage of that data? And not just be transparent about its usage, but its possible sale down the line to a third party?
So far, available survey data about consumer attitudes towards data, privacy and the IoT market – as well as their attitudes about privacy in general – is instructive.
A Ponemon Institute survey of 1,900 consumers, for example, found a whopping 82% of respondents say IoT manufacturers had not provided any details about how their personal information is handled.A recent Pew study of almost 500 Americans, meanwhile, also found that 88% of respondents said it's important that someone or some agency or group not watch or listen to them without their permission. Likewise, 63% said it's important to them to be able to "go around in public without always being identified".
Read more : http://www.theguardian.com/technology/2015/sep/14/data-generation-insights-internet-of-things